Secret Clearance Sale


Exclusive 25% Off Super Secret Clearance Sale for Any Collectible Customers
As you may know, Collectibles Today (almost) NEVER discounts anything. When you first visit the sale page, it may be hard to tell the products are at least 25% below MSRP. That is, until you check the competition...
Visit the Secret Clearance Sale.
Collectible of the Day
Running Free Women's Shirt With Wild Horse Art Of Chuck DeHaan - $49.95
The Bradford Exchange > Women's Shirts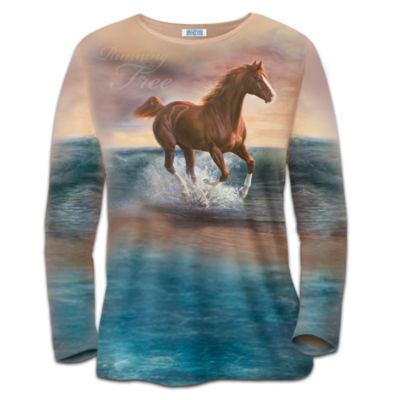 With its mane flowing in the wind and its head held proudly, the vision of a wild horse evokes an exhilarating sense of freedom. Now, award-winning artist Chuck DeHaan captures that same vision in this masterpiece horse art shirt, available only from The Bradford Exchange. Witness the vivid scenery along the shore at sunset, where the deep colors of midnight blue, rich brown and sun-drenched beige provide a dramatic background for this stunning horse art apparel. Finely crafted of 100% cotton, this exquisite horse art shirt features a fashionable, classic style with 3/4-length sleeves, a flattering cut and exceptional comfort. The captivating artwork from DeHaan's beloved painting "Surf Dancer" is showcased from top to bottom, along with the silhouetted words "Running Free." Don't miss your chance to slip into this stunning work of wearable art. Order now!